Five Important Principles of Writing Academic Assignments
We are living in a world where intelligence and knowledge are judged by grades and academic performance.
In academic writing, assignments are the first on the priority list. Students usually have to write plenty of assignments throughout their academic career. That is why academic assignments are a nightmare for students.
Moreover, due to the persuasion of the same academic syllabus and curriculum for years. The chances of plagiarism have increased too much. It is a practice to assign similar topics to students from every batch. Hence, students get easily trapped by plagiarism.
Assignment writing requires a formal tone or guidelines to follow from the professors. Additionally, the burden of multiple assignments at a time is very common in a student's life. Along with these academic assignments, students also have to cater to exams, quizzes, send-ups, etc. Therefore, it needs to address them with the best strategies for writing assignments.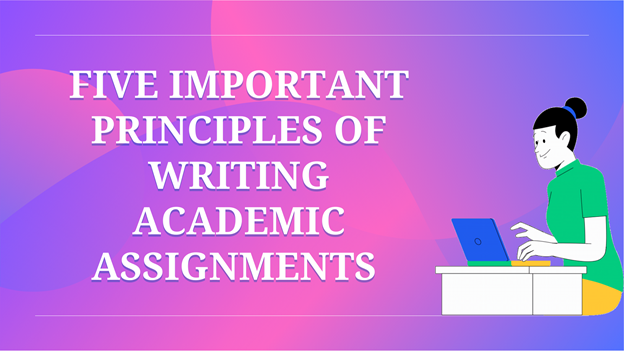 1. Research is the Key
For writing a top-notch and detailed assignment, research is very important. You cannot write a good assignment without proper knowledge of it. And for gaining proper knowledge, you need advanced research skills. You can easily detect a well-researched assignment from the introduction of an assignment.
You can opt to read books, blogs, articles, research papers, and old assignments of your seniors for research purposes. Moreover, Google Scholar can also help you in performing research for your academic assignments.
Remember the more resources the better research. Variations in the credible resources can help in making your research and assignment both stronger.
2. Focus on the Structure
The structure of an assignment is very important in making it attractive and strong. Sometimes you may get the outline or structure of the assignment from the university while most of the time you have to make it. Therefore, always make an outline that attracts the users from the beginning and forces them to read till the end. Properly structured content also enhances the flow of an assignment.
Joining the important points and making the layout better not only makes assignments look better but also emphasizes the readers to give them a full read. The chronological order of an assignment should start with an introduction and ends with a conclusion with the reasons and arguments discussed in the body in support of the conclusion.
3. Referencing and Citations
No academic assignment is completed without proper citations and references. Citation is known as numbers or symbols that represent a statement, word, or phrase copied from some source. Wherever in your academic assignment, you need to quote something or write something from another's content, citations are used.
References are the backbone of citations. References tell you about the source information of the cited content. Mentioning the source information in your assignments is the best practice to them credible. You can add the bibliography at the end of your assignment and add all the references against the citations in this section. There are multiple ways and styles used to add citations and references. Follow your university guidelines to pick up the right format. A few famous are mentioned below:
APA (American Psychological Association)
MLA (Modern Language Association)
Chicago/Turabian
IEEE (Institute of Electrical and Electronics Engineers)
4. Never Skip Proofreading
Proofreading is the most important step in academic assignment writing. You might have written the whole assignment with all your efforts and heart, but if there remain a few mistyped words, grammar errors, spelling errors, etc. your assignment can be rejected or your grades may fall.
That is why proofreading for spelling, grammar, and typo errors is much needed. You can ask your friends or family members with a good grip on English linguistics to proofread assignments for you. While proofreading, checking for plagiarism in your assignment is also necessary.
Therefore, you should always check for plagiarism with a plagiarism checker online. Hence, using plagiarism checkers as a part of proofreading can help a lot in ensuring the quality of your assignment.
5. Removing Plagiarism
After checking for plagiarism in your content, it is necessary to remove it if found. Plagiarism is unacceptable in every part of the world and there are several ways used to remove it. A few ways to remove plagiarism from your content are mentioned below:
Change the word and their synonyms
Revamp the sentence structure
Use citations and quotations
Perform plagiarism removal online.
You can find the synonyms using Google and Thesaurus and add them as replacements for existing words. Changing the sentences from passive voice to active voice and vice versa can also help in removing plagiarism from the content. Moreover, if you don't want to perform all these, you can try plagiarism removal online. Online removal can save a lot of time and effort.
Conclusion
Here in this post, we have discussed five important principles of writing an excellent academic assignment. You should implement the aforementioned tips or principles while writing your academic assignments for making them above of all. Hope you find this article interesting and helpful. Thanks for the read!