Difference Between Inclusion And Differentiation Policies In School
Inclusion methods of studies are nowadays highly popular for students who are especially disabled. In this aspect, there are two types of inclusive educational methods like partial and full inclusion. In this inclusive method of study, especially abled students go through different instructions such as language therapy, scribble study, and many others. This study helps students not only to learn the educational information but also provide sufficient education for their psychological development and they can also take part in social services. For providing this inclusive education to students, teachers need to learn the art of differentiated instruction development. Contrarily, differentiation policy is another teaching process where teachers enhance their potential of teaching. In differentiation policies, there are no specific target students but it's the educational policy to spread education among most of the students. So, that's the basic difference between inclusive and differentiation policies of education in school.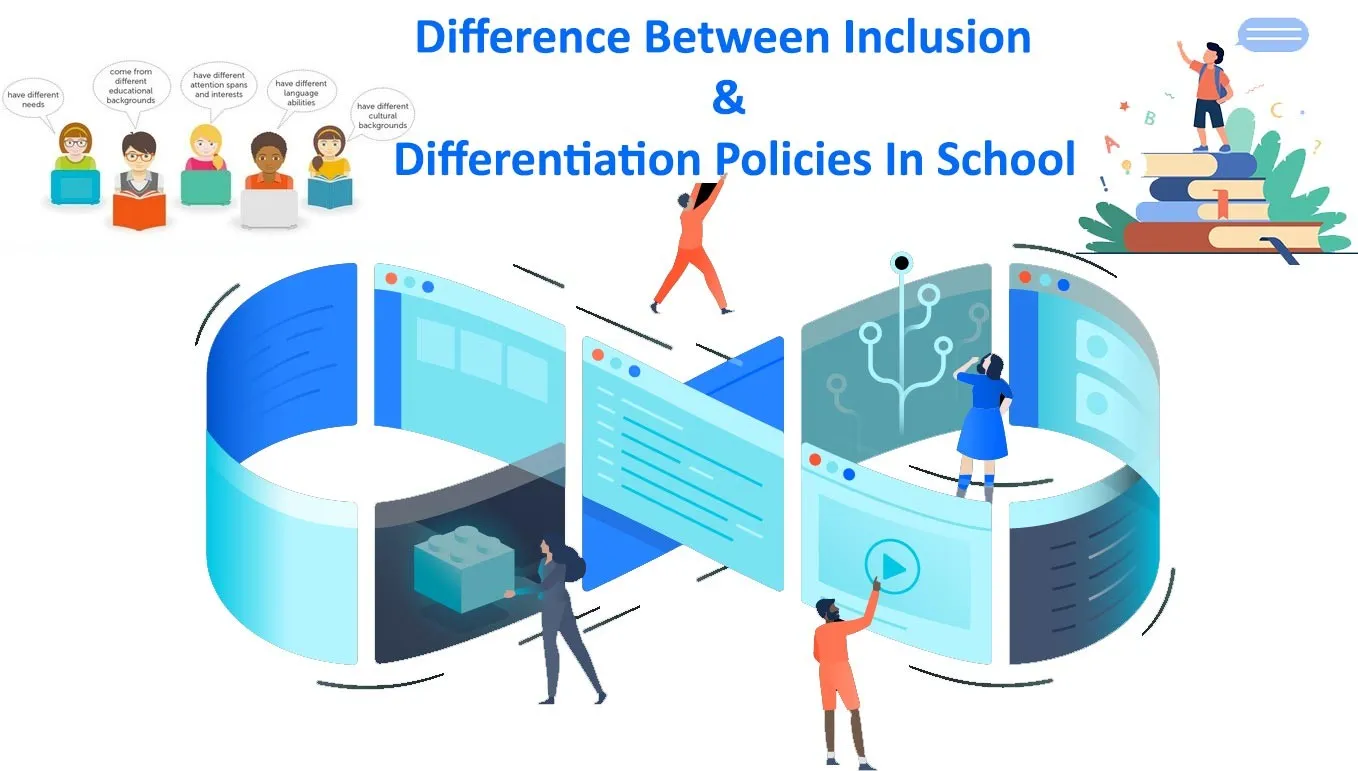 Differentiation in Inclusive Education
Under the differentiation policies, teachers provide a broad spectrum of control to students over their learning as well as educational aspects. Through the differentiation policies, teachers provide special emphasis on the natural growth and development of children. Different kinds of pedagogies like project-oriented learning systems, inquiry development within students, and expeditionary learning methods are highly popular. These methods of education are common among teachers because it provides independence to students for learning and teachers can provide greater access towards their teaching method. In higher education-oriented institutions, there is a system of learning with hybridization of inclusion and differentiation policies. In this way, specially-abled students will get sufficient care, whereas with differentiation policies other students will be able to learn their syllabus. The effective type of inclusion implementation within the classroom of specially needed students is nowadays dependent on the effective differentiation policies. Inclusion in differentiation policies provides the potentiality among students with special needs to learn at an optimum level.
In the inclusive method of studies for specially disabled students, teachers can incorporate these differentiation policies through curriculum contents, teaching processes, assessment methods, speech therapies, and others. In this way, most of the specially-abled students can learn potentially. Here question and answering process of studies provide great support to especially disabled students to overcome their hindrances in learning.
Strategies for Differentiation
Teachers for providing differentiation-based education within the classroom take different processes. It includes designing different lessons depending on the learning style of maximum students. For differentiation implementation, it is very crucial to divide students among different groups depending on the common interest, hobbies, and others. Teachers sometimes follow the assignment help process for students learning through the utilization of formative assessments. In differentiation, policy-based education, teachers have the responsibility to design and manage the classrooms with a safe and secured environment for supporting specially-abled students. Continuous assessments and adjustments towards lesson planning, learning, and adjusting with the school environment are also part of strategies to provide different types of differentiation policy-based education within the classroom.
Differentiated Instruction
Teachers use this tailor-made differentiated instruction for their students to enhance their learning speed, and these instructions are designed according to the learning style of students. Here contents, process, projects, and learning environment are very crucial parameters in designing differentiated instruction. Contents are designed on the interests of a student; processes are designed on interested activities of students. Projects are differentiated instruction to find out the knowledge and level of intelligence where students get the scope to show what they know. The learning environment is another differentiated instruction for providing the best feeling to students. So, differentiation and inclusion both are highly crucial for the growth and development, learning, and future career development of students.