How You Can Boost Your Writing skills by Practicing Paraphrasing
High-quality content has become one of the most important and influential elements that rule online businesses, educational platforms, and research portals. A well-written piece of text is highly useful to inspire the targeted audience.
The demand for unique and appealing content is not limited to any particular field of life. Engaging content is essential to ensure a smooth flow of information, whether it is academics, business, or any professional field.
However, writing inspiring content is a challenging task. As writers, we have to make extensive efforts to collect authentic and relevant information regarding the topic we are going to write about.
Besides excellent research skills, a firm grip on grammar is also crucial to convey information or ideas to our readers effectively and more straightforwardly. But, the biggest challenge we usually face in this procedure is meeting the given deadlines.
Writers are often asked to deliver research-based, fresh, and 100% unique content within a few hours.
Any professional writer will surely second me that writing excellent content requires considerable time. Therefore, many students, writers, and researchers opt for unethical or illegal ways to complete their assigned tasks.
Following practices like plagiarism is a dangerous approach that can ruin one's career in no time. The charges of plagiarism can damage a writer's reputation quickly.
Therefore, a better and more effective approach must be adopted to reduce efforts and ensure text quality to be consistent with others' work.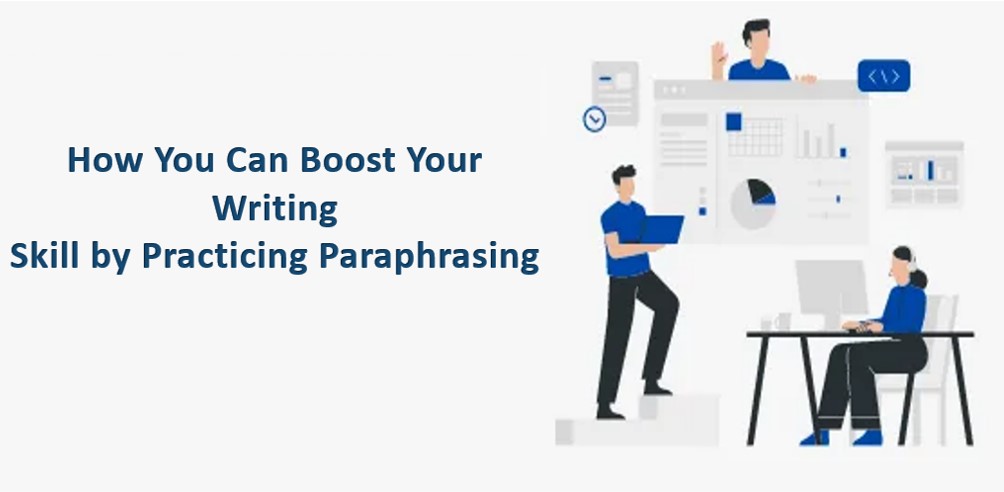 Paraphrasing: An Easy Way to Create Quality Content
Rephrasing published content or manuscript is a better approach that saves us from falling under the category of plagiarists and allows us to write quality content quickly.
In this method, we rewrite a piece of text in our ideas while keeping its original intent. The approach saves us from doing deep research to collect relevant information.
All we require is to understand the main idea of an article and then paraphrase it in our own words.
Paraphrasing is a practical approach that helps us write lengthy and ambiguous content without committing plagiarism.
Tips to Boost Writing Skills by Paraphrasing
Below are a few useful tips that will help improve writing skills by practicing paraphrasing.
Improve Vocabulary and Grammar Knowledge
A firm grip on grammar is one of the essential things to writing great content. Besides, improving vocabulary is another crucial element every writer needs to work on. Changing the words of original content with suitable synonyms helps rewrite a piece of text appropriately.
Taking assistance from online platforms or teachers helps enhance grammar knowledge. Writers with an excellent grip can easily maintain writing flow and rephrase a text effectively without spelling and punctuation mistakes.
Read the Original Content Attentively
Excellent familiarity with the textual content we want to rephrase is inevitable for adequate rephrasing.
Going through the content at least twice with complete attention enables us to understand its sole context. Once we understand what the author wants to convey in the article, rephrasing it in our words will become an easier task.
Similarly, there might be a few terms or phrases in the text that we may need to become more familiar with.
Finding their meaning using online platforms will help us in effective paraphrasing.
That's why reading the content efficiently ensures engagement in the rephrased text.
Learn Different Writing Styles
Analyzing the content written by other authors will help us learn various styles and techniques to create content. Similarly, examining the text generated by a paraphrasing tool is advantageous for handling technical and complex topics most simply.
Reading the rephrased text will help get familiar with multiple ways to write an article which will help in boosting content writing skills.
Prefer Writing in Active Voice
Maintaining an understandable writing style through content is a critical aspect of paraphrasing.
Enhancing grammar or vocabulary may only help us in rephrasing excellently if we work on keeping the engagement in the text.
It has been observed that many writers start using passive voice while rewriting a text, which is entirely the wrong approach. This will ruin the readability of paraphrased text and make it easier for the readers to understand.
Therefore, we should prefer using active voice instead of passive voice to provide a direct writing style sense to our readers and keep the text fluent and straightforward.
Try Paraphrasing Tool to Overcome Writing Deficiencies
Writing in a non-native language is always a challenging and hectic task. In case an individual needs more writing skills and rephrasing text appropriately, the assistance of an online paraphrase tool is a useful approach that helps rewrite sentences without typing a single phrase.
Once you enter the text on a rephrasing tool, it will automatically paraphrase the text by replacing words with their relevant and suitable synonyms. The assistance of the paraphrasing tool supports individuals new to content writing or who don't have appropriate writing skills in creating inspiring and fresh content.
Bottom Line
This blog post will help improve your writing skills by practicing paraphrasing. Following the suggested ways, writers can easily uplift their rephrasing skills and rewrite content while keeping its actual essence and quality.